2016 Sailor's Dream Neckerchief
Simon I sent you a PM regarding the £25 price for forum members.

Just one thing, when you choose Gimme Both! you have to choose 2 in the Quantity box which may be confusing because you're just buying 1 of Gimme Both! that includes one of each but you need to introduce 2 in order for that choice to work. I don't know if this is intended.
Yes, I'll put a note on the shop thanks.
Alright, I'm in* (for one in Navy & Red; will send PM)
Meantime, one question that might be of public interest: If worn as a neckerchief using a keeper in the form of a ring, what approx. size/diameter would be needed?  I'm guessing an ordinary scarf keeper with a flat, sheet metal aperture (or worse yet, some type of clip) would be pretty hard on the silk.  I would also prefer to use a keeper (vs. knotting it) for the much the same reason.  TIA
*Update:
Order placed.
A leather Scout woggle woild probably be the best option.
Actually, I had* a pretty specific idea for this, so I suppose I'll just try it (
too
— lol)
It might be a bit extravagant, but to me the entire concept is: I haven't worn any kind of necktie for so long, I honestly don't remember it.
Now, if the combo doesn't work out, that's quite alright: I absolutely adore (real) tortoise shell, and the SJC neckerchief totally rocks.
Cheers!
* 'Update':
have
(on the way...)
Thanks for sharing, that is lovely. I know for thicker necked members this would be very handy to own. What you save in knotting you gain in length. Is it new? I would be nice to offer these.
The following 1 user Likes SJC's post:
1 user Likes SJC's post
• RockinByrdie
It was a lucky (albeit rather expensive) Etsy find.
I should have clarified/separated the link:
From Etsy:
"Victorian Tortoiseshell Chased Band Buckle Ring Antique Jewelry Size 7 - 7 1/4 Antique Jewelry Scarf Slide Mens Womens"
https://www.etsy.com/listing/293809895/s...hased-band
(*SOLD* — lol)
PS: You need to scroll down to see the original listing.
~ ~ ~
I was just 'thinking' (you know, for a change — lol)
I don't even know my ring size (!)
Better yet, I don't care
Simply knot the silk once threaded through the loop.
Yes, of course: That would work.
I'm really gonna have to try it: The old neck ain't what it used to be (lol)
---
I should probably give you one more example of this knot business:
It took me over 50 years to 'discover'
The Granny Knot
.
You can probably deduce the rest (rofl)
Scarf Ring Update
 (FYI)
The Etsy seller shipped the ring today and advised me there will another "buckle ring" listed soon.
I requested notification when it goes up for sale.
I don't know anything else about it at this point, but I will post it here if it looks at all worthwhile.
The following 1 user Likes capminer's post:
1 user Likes capminer's post
• RockinByrdie
Hey, Warpath Leather Goods makes some killer neckerchief slides(keepers). I have 2 I use all the time. Perhaps Matt could work up something exclusive to SJC?
The following 1 user Likes RockinByrdie's post:
1 user Likes RockinByrdie's post
• capminer
Ringdate 5/26/2016
The Etsy seller listed the 'new' buckle ring: Victorian, Sterling ($185, FYI)
https://www.etsy.com/listing/344854243/s...ing-silver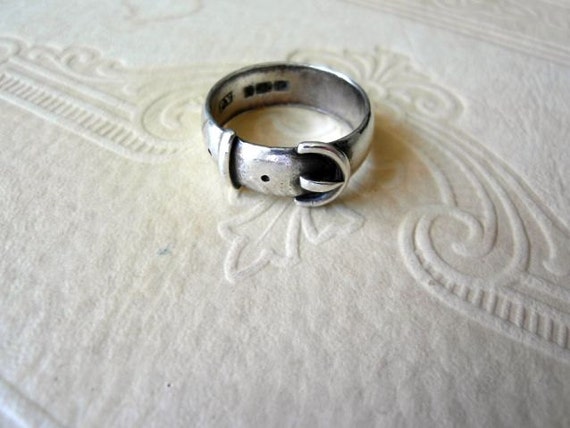 Also, as noted in my 5/26 review @ Etsy (screen name:
caporteur
), I would *highly* recommend this Etsy Shop.
Deborah there runs it right.
Just don't search it for 'tortoiseshell'; if you're anything like me, you might fall right off the deep end (lol)
The little bit I now have is a *knockout*
Cheers 
I remember seeing rings like that in, of all places, Argos, msybe twenty years ago. Usually 9ct gold. Quite striking. Had no idea they were a revivsl of a Victorian design, though!
Users browsing this thread:
1 Guest(s)